When Opportunity Knocks…
by Tom Lancaster, VHS Assistant Principal
At the heart of David Maraniss's best selling biography When Pride Still Mattered, which shares the life of Vince Lombardi, rests the legendary coach's commitment and determination. One of the most compelling moments in Coach Lombardi's life occurred at the conclusion of a high school football game, when, after a hard fought loss to a rival school, the then high school offensive lineman sat alone analyzing his effort and the outcome of the game. During this analysis, young Vince Lombardi came to the realization that the physical pain that he endured from offering all of his energy to his team resulted in a level of exhilaration that he craved for the rest of his life. Numerous books and articles emphasize the value that grit, work ethic, and passion play in an individual's success, and Verona High School is using the information to create an innovative environment that allows all students to enjoy tremendous opportunities to explore, create, and pursue success.
From the outside, Verona High School's beautiful, elite athletic fields and courts offer a glimpse of the exciting opportunity that the school offers. Inside, our school's great opportunities offer even more.  Every student is encouraged to take advantage of our Bring Your Own Device policy, which allows each student to use his or her own electronic device to explore far beyond the walls of the building. We also have a large number of Chromebooks and desktop computers, so technology is readily available to all. Our strong wifi connections offer clear, quick access to our network. The technology is designed to encourage our students to work collaboratively with classmates to create solutions and to generate ideas that lead to growth.

With access to our network easily available, each student can utilize the Google Apps for Education (GAFE) that serve as powerful tools for learning. Students can use Google Docs for digital writing conferences, to create and solve mathematical problems, to organize ideas for a science lab, and so much more. Google Forms allow students to gather data, which can be organized and analyzed on Google Sheets. Google Slides offer students to create visuals that go far beyond the traditional public speaking forum. Google Calendar allows students to organize and schedule, while Google Drive stores their work so they can continue to access their
files and build upon their ideas as they advance to even greater experiences. All of the Google Apps for Education facilitate our belief that ideas should not be compartmentalized, but should instead be readily available for students to use to be innovative. As students explore and follow their passions, our exceptional teaching staff uses data to provide detailed maps to guide each student. Khan Academy, for example, offers each student opportunities to investigate and grow as they tackle problems in specific areas of math. While each student evaluates his or her work and learns through clear, detailed, and user-friendly mini-lessons, our teachers analyze the detailed data that Khan Academy provides. This facilitates rigorous, differentiated instruction that our students have found both rewarding and fun. Our teachers continue to seek innovative resources that they can mold into authentic learning experiences, so each student's experience helps steer him or her towards success in high school, college, his or her career, and life.
Verona High School does not simply contain a curriculum focused on classroom experiences. We believe that students should take what they acquire in their courses and investigate ways they can apply their knowledge and skills. Verona High School has an Option II program that is specifically designed to provide our students with hands-on access to career options. Students can explore life in the corporate world, the entertainment fields, the trades, the medical field, law enforcement, and many other career paths. We encourage each student to be creative and to proactively seek opportunities that may enable him or her to obtain insight into a career that can provide the means to pursue a passion.
Technology continues to create new and exciting devices that are designed to solve problems and provide the means for even greater innovation. Verona High School is fully vested in providing our students with an environment that allows them to excel in an ever growing society. We have an innovative STEM room that screams for students to enter, design, and create. The tools and machinery, which includes a brand new laser-cutter, a 3D printer, and more, are complemented by a brand new computer lab. Together, all of the resources in our STEM room provide each student with countless opportunities to help design the world in which they will one day lead. In addition, we have a makerspace that allows every student time to tinker with ideas, explore how things work, ponder innovations, and have fun. The makerspace is housed in our newly remodeled Learning Commons, which not only contains thousands of brand new, exciting, best-selling books, but contains flexible, comfort-able furniture that encourages collaboration in a warm, friendly, and comfortable environment.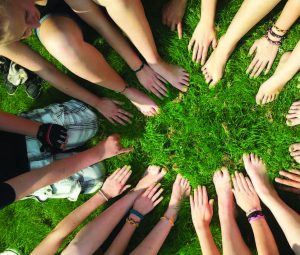 In both Steve Jobs and The Innovators, Walter Isaacson writes extensively about the importance of meshing math and science with the arts. Verona High School is a place that embraces the arts. Our music department has developed an elite band that is second to none. Every student is welcome to join our all inclusive band that uses each student's effort to develop his or her skills. Consequently, the band is filled with students of all levels and abilities who work together to develop camaraderie and to create exceptional music. Additionally, our annual jazz concert continues to draw enormous crowds who are treated to an exciting evening of student-driven, popular music. Our choir also provides inspiring music that highlights the wonderful commitment to the arts. Verona's love of the arts extends beyond music. Verona High School Creative Arts Festival provides a wonderful display of our students' creativity. This end-of-the-year experience allows us to display what our artists have created. The visuals are stunning, and demonstrate an exceptional commitment to critical thinking.
Verona High School is filled with opportunities. Ultimately, we want our students to dream, think, collaborate, and create paths to happiness and success. Each student is different, but we believe all can learn to work hard, explore their passions, and, one day, enjoy the exhilarating feeling that commitment provides.
Click here to read more articles in the Verona Public Schools Magazine 2016-2017 Edition.