Theoretically Speaking
By Mr. Howard Freund and Mr. Erik Lynch
Music in the Verona Public Schools certainly has a rich lineage that continues to mature, evolve, and grow each year. The public faces of the program are certainly our fine bands and choirs, however there is a hidden gem in our district …
If you happen to walk past the VHS band room during a theory class you will most likely not hear what you would expect.
Typically, you hear small or large groups of students working diligently on mastering challenging repertoire, but if it is during a theory period, you would hear in depth discussions of voice leading, tone rows, Neapolitan chords, and counterpoint amongst many other things. Students who enroll in music theory at VHS learn the academics and aesthetics of what makes music work. They start with the basic building blocks of rhythm, intervals, and scales and progress to college level discussions of intricate details that made the masterpieces what they are.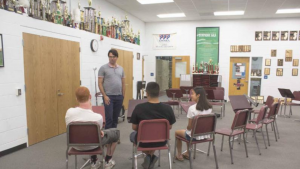 The theory curricula at Verona High School prides itself on embracing the classic vocabulary and language of the Western European canon (Haydn, Mozart, Schubert) while pushing the envelope of a typical high school theory class. In addition to preparing for the rigorous Advanced Placement exam in May, our students engage in intensive rhythmic activities, read and discuss scholarly articles about education, and pick a complete symphony to study for the year. In addition to learning the science behind composition and orchestration, theory students develop and hone their ear training skills. Through ear training, students gain the ability to transcribe what they hear as well as developing the ability to examine a piece of music and "hear" it inside their heads. These fine students are kept busy~
In 2016, Dr. Jennifer Snodgrass of Appalachian State University surveyed the two hundred plus quarter finalists of the Grammy Music Educator award to garner their thoughts on music theory. Mr. Erik Lynch, music teacher at Verona High School, was part of this process. This past school year, Dr. Snodgrass "Skyped" into the Advanced Placement music theory class at VHS. She was thrilled with the work the students were doing, specifically the activities that went beyond the typical framework of high school/university music theory classes.
We are thrilled to announce that Dr. Snodgrass will include our theory classes in her new book Teaching Music Theory: New Voices and Approaches, published by Oxford University Press. There will also be short teaching videos on the YouTube Channel that accompany the text.
Feel free to visit bridgingthemusictheorygap.wordpress.com for more information!
Click here to read the digital newsletter.