The Place to be for Computer Science
by Glen Stevenson, Supervisor of STEM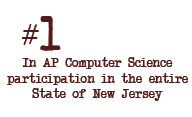 Computer science is the literacy of the 21st century. It is important beyond just programing computers and devices. Students learn logic, problem solving, and design principles through computer science. Computer science happens to be a point of pride for Verona Public Schools. All students at H.B. Whitehorne receive instruction in computer science in 5th and 6th grade and can elect to continue in 7th and 8th. Verona High School has the best participation rate in the state of New Jersey for Advanced Placement Computer Science A and for the 2016-17 school year we have expanded our computer science opportunities with the addition of Advanced Placement Computer Science Principles.
Mr. Andor Kish has served HBW students for ten years as a math teacher, a science teach-er, and a computer technology facilitator, but his current role is as a Computer Science Teacher. All students in HBW take part in a cycle of classes that have traditionally included art, music, technology and which now includes computer science. Beginning in 2014-15 all students in grades five and six received instruction in basic computer science and programing using Scratch. In 2015-16 computer science at HBW expanded into grades seven and eight with elective cycles. Grade seven students work in TinkerCAD to design 3-D objects which can be printed with the 3-D printer that Mr. Kish obtained through a grant from the Verona Foundation for Educational Excellence (VFEE). Grade eight students go into greater depth and complexity with the MIT Scratch programming language. Mr. Kish says the best part of teaching computer science at HBW is "watching the kids problem solve" as they build their programs and objects. Verona is in the lead in providing students with a rich computer science experience at the middle school level which sets the stage for even more opportunities at VHS.
In most high schools, Advanced Placement Computer Science A (AP CompSci A) is the third class in a sequence. Student participation dwindles each year, and can be quite restrict-ed by the third year. The decline in student participation stems from a possible loss of interest overtime, and the difficulty for students to schedule three years of Computer Science amid competing interests.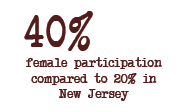 This has positioned Verona in first place in terms of participation rate for all of New Jersey for the last three years. Mr. Rich Wertz says, "In the 21st Century, all sciences are computer science." VHS is giving its STEM students a big edge in college and career with a solid foundation in computer science. Of significant importance, female participation in AP CompSci in 2015-16 was 19 females out of a total of the 46 students. That is more than 40% of the enrolled population! Fortune magazine reported in 2015, "Most of the top-paying jobs for college graduates today involve computer science and engineering degrees, yet only 18% of computer science graduates are women." Verona is once again ahead of the curve.
For the 2016-17 school year, Verona High School has launched Advanced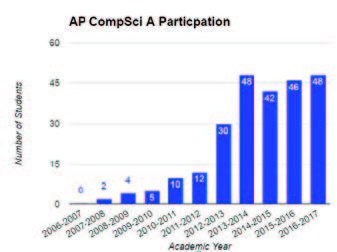 Placement Computer Science Principles (AP CSP) in conjunction with the College Board and Harvard University. The College Board developed this new course with the support of more than 100 colleges and universities, including Harvard University. Harvard offers a course called CS50 which introduces "…the intellectual enterprises of computer science and the art of programming for students less comfortable and more comfortable alike." Harvard has offered an adaptation of this course called CS50 AP for high schools to fulfill the vision of AP CSP. Ms. Danielle Mutovic will be Verona's instructor for AP CSP. She is looking forward to the challenge, "The thing that I am looking forward to most will also be the most challenging of the course. Students will be coming into this course with a variety of backgrounds concerning computer science." AP CSP is open to all students who have completed Algebra I and VHS currently has an enrollment of 58 students for 2016-17. Students can take AP CSP followed by AP CompSci A or vice versa. The courses are significantly different and offer students varying experiences within the world of computer science.
Click here to read more articles in the Verona Public Schools Magazine 2016-2017 Edition.