Orton Gillingham Certification: A Tool for Teaching Reading
by Gina Venezia, Supervisor of Special Education
A teacher's professional learning journey is an ongoing process that will last throughout their teaching career. That learning journey has just awakened for nine Verona teachers as they become the first Verona cohort of teachers to complete the Orton Gillingham Certifica­tion program. Mrs. Vicky Cirigliano, Mrs. Sue Conlon, Mrs. Kris DePoe, Mrs. Nancy Hiscano, Mrs. Tatiana Lastella, Mrs. Corrie Majestic, Mrs. Anne Marie Ruggiero, Mrs. Joan Weiss, and Mrs. Kathy Wrobel began their certification in 2015 and are one year away from completing the rigorous program.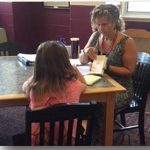 Orton Gillingham is a direct, multisen­sory, phonetic approach to teaching reading, spelling, and writing. It is specifi­cally designed to help struggling readers by teaching them the connections between letters and sounds. It is grounded in the idea of breaking reading and spelling down into smaller skills involving letters and sounds, and then building on these skills over time follow­ing a distinct scope and sequence. Dr. Sam Orton and Dr. Anna Gillingham pioneered the multi-sensory component within this approach which requires instructors to use hearing, seeing, touch­ing and movement to help learners connect language with letters and words.
The Orton Gillingham Certification program is accredited through Fairleigh Dickinson University, but hosted in the Verona school district on Tuesday afternoons. Our Verona teachers attend class at H.B. Whitehorne Middle school for 4 hours each evening. The completion of the Orton Gillingham course work is nothing short of rigorous. In addition to weekly class lectures, required readings and written responses, the teachers also complete a 2-hour practicum each week where they "tutor" two Verona students for one hour each using the Orton Gillingham approach. Mrs. Lastel­la, a 1st grade teacher at Forest Avenue Elementary School stated, "It's an intense hour. We follow a strict format and we have to stick to that. Every minute (with our student) is accounted for:' The tutor­ing practicum allows the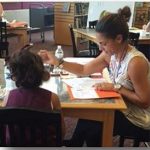 teacher to learn and practice the skills of Orton Gilling­ham under faculty supervision. Each practicum session requires the teacher to create a lesson plan for each student session. On average, one lesson plan requires about one hour to develop and the teachers are trained to create plans that are individualized to each student's individual learning needs.
Hosting the certification program within the Verona Public Schools has allowed the district to provide an additional level of support to some of our students who are struggling with the reading process. The list of potential students is completed with the assistance of the academic coaches and classroom teachers. The list is then narrowed down to identify students who demonstrate the specific phonetic and reading deficits within the scope and sequence of the Orton-Gillingham class based on FDU guidelines and requirements. As stated by Mrs. Majestic, our 6th grade teacher at HBW, "I feel that it has been a great opportunity for us and our Verona students. As a district we are getting so much more from this program."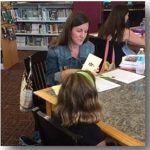 The teachers are now embarking on the second and final year toward completion of the certification. They have all emphasized the intensity of the program and challenge of balancing the demands of running a classroom along with planning and prepar­ing for class, but in the same breath, they all emphasize the value of what they are learn­ing. Mrs. Anne Marie Ruggiero explained, "The Orton Gillingham program has allowed me to have a better understanding of our Wilson Fundations Program. This knowledge allows me not only to tweak my phonics instruction more effectively in a large group setting, but also differentiate instruction in a small group or individually during Reading Workshop". The district will continue to reap the reward of this training as the teachers continue to develop their skills in the area of phonics and reading and naturally infuse the methodol­ogies of Orton Gillingham into their small group reading instruction.
Click here to read more articles in the Verona Public Schools Magazine 2016-2017 Edition.