On the Path to Fitness… Creating a Healthy Space For All
by Bob Merkler, Director of Athletics and Special Programs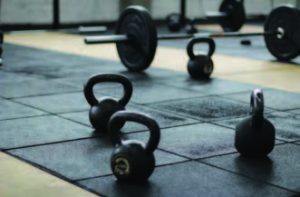 Verona High School currently has a weight room of yesteryear, however an initiative has begun to develop a modern day fitness center to benefit all male and female students. The fitness center will enhance not only athletics but our new physical education curriculum enabling a foundation to be built for lifetime fitness.
Beginning October 2016, Verona High School instituted a new and unique fundraising effort that will raise funds to upgrade the fitness center facility with new equipment while also enhancing the paver dedication walkway on the Thomas J. Sellitto Athletic Field.
The Verona High School Brick Fund-raising Campaign will allow past and present members of Verona to honor loved ones, students, athletes, teams, faculty, and many others. The brick pavers will be laser engraved on concrete bricks and allow for a personal design using text, clip art, or logos. The bricks, offered in 3 different sizes and colors, are priced starting at $100 for personal pavers and up to $550 for corporate sponsorship. The pavers also make an excellent gift and way to honor a past or future graduate of Verona High School. All paver bricks that are purchased will be constructed as part of a walkway from the entrance of Thomas J. Sellitto Athletic Field to the Verona flagpole at the top of the hill at our stadium. Once constructed, the paver walkway will endure for a lifetime for Verona Hillbillies fans to view and enjoy.
All proceeds from the Verona High School Brick Fundraising Campaign will be used to upgrade the Verona High School Fitness Center and enable all of our students to have access to new, functional exercise equipment that will enhance physical fitness. The new space will enable our teachers to incorporate strength and conditioning into our physical education program for our students during the school day. The newly renovated space will also be utilized by all athletic teams and support the physical rehabilitation of our female and male student athletes. We are extremely grateful to all of the parents and community members who have already supported this wonderful initiative.
We hope you consider making a contribution to this fundraising project. To purchase your own personalized paver brick, please visit this website to learn about all of the different engraving options available: polarengraving.com/VeronaHighSchool Please feel free to contact Bob Merkler, Director of Athletics and Special Programs at rmerkler@veronaschools.org should you have any questions.
Click here to read more articles in the Verona Public Schools Magazine 2016-2017 Edition.