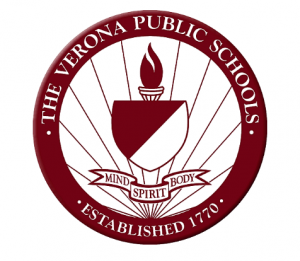 Superintendent Corner Column
Keeping Our Children & Schools Safe
October 2018
Keeping students and staff safe is our top priority. We strive to ensure a positive school climate and culture in Verona. Our commitment to this endeavor is centered on both proactive educational measures and coordinated, strategic school security planning to ensure a safe learning environment. The Verona Public Schools has made tremendous progress over the past five years related to school security measures. Additionally, the District has focused on a variety of areas such as evaluation of social and emotional curricula across the entire district, parent education, and community outreach.
The District has developed a comprehensive support system of educational resources, both preventive strategies and interventions, to support children and families through collaborative partnerships within our community. Our school security and emergency management response training continues to evolve through our collaboration with local law enforcement and certified safety professionals.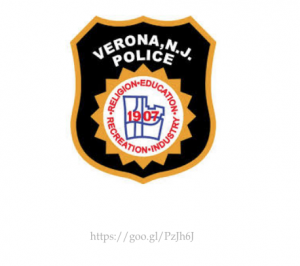 Collaboration Between
Verona Public Schools
and
Verona Police Department
The Verona Police Department has been integral in facilitating staff learning opportunities and a coordinated response between law enforcement and our schools to keep our community safe. Specifically, Detective Joel Martin has been a champion for this cause and is commended for his exceptional efforts. Our recent staff development day on September 28th was a testament to his efforts and those of all involved.
VPS is fortunate to have the Verona Police conduct daily walkthrough visits of our schools, establishing a positive, visible presence, and building meaningful relationships with our students and staff. We are grateful to Police Chief Kiernan and the entire department for their support and efforts.
The Verona Public Schools and Verona Police Department collaborate on a regular basis, continuously refining school safety procedures and coordinating the efficient response and deployment of all available resources. Our local law enforcement, certified personnel, and district staff provide staff training.
Ongoing tabletop simulation exercises provide valuable opportunities to analyze various hypothetical scenarios and action responses to most effectively address critical incidents. Scheduled school security drills engage not only District staff and the Verona Police, but also include our fire department, emergency medical services, and Verona Public Works, to ensure streamlined coordinated efforts with all departments.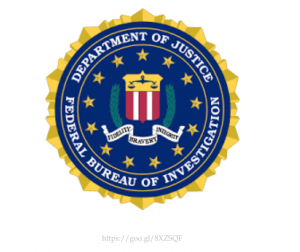 Federal Bureau of Investigation (FBI)
Staff Training
A Special Agent from the Federal Bureau of Investigation (right), Newark Division conducted staff training entitled "Making Prevention a Reality" with members of our dedicated faculty and staff. A similar professional development session occurred last year with our leadership team at the Verona Community Center in partnership with the Verona Police Department. The presentation was incredibly relevant with topics including Awareness, Identification, Assessment, Management, and Leadership Response action steps to help keep our students, staff, and schools safe.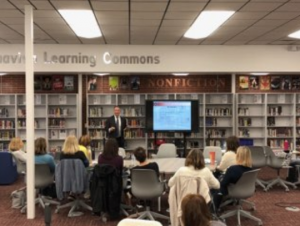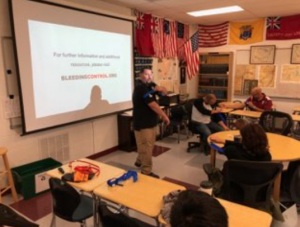 Joseph Grassi (above) of University Hospital in Newark provided emergency medical services training on bleeding control for our school nurses, athletic coaches, custodians, and additional faculty who retain AED and CPR certifications.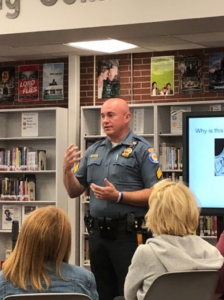 Paramus Police Department
Detective Sergeant Jim Teehan (below) from the Paramus Police Department shared his experiences on school action response, including emergency planning and preparation of staff members.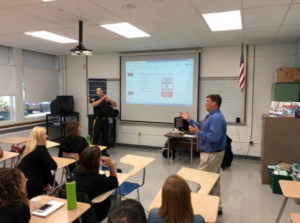 Lieutenant Paul Watkins of the Verona Police Department and Mark Rossi of Verona Public Schools and Verona EMT (above) discuss suspicious activity reporting best practices for designated school personnel.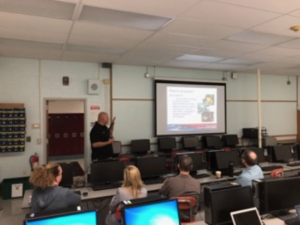 Timothy Phelan of University Hospital in Newark discussing incident command for school administration.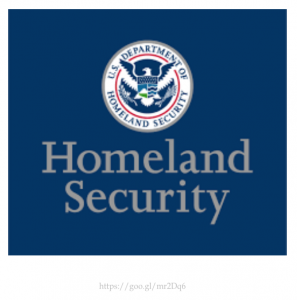 The Verona Public Schools continues to refine emergency management school security procedures aligned to best practices from the U.S. Department of Homeland Security. Recommendations from the New Jersey State Police provide ongoing support and intel on staff training of district administration over the past three years.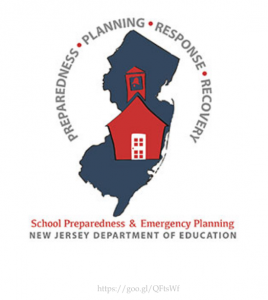 The New Jersey Department of Education Office of School Preparedness and Emergency Planning (OSPEP) visited the Verona Public School District as part of the Governor's K-12 Safe School Initiative in 2017. The purpose of this collaborative visit was to observe an unannounced school security drill and to highlight areas of strength and to provide technical assistance to improve school security and preparedness. During the visit, constructive dialogue occurred and best practices that may enhance our procedures were discussed. Our District security team continues to review recommendations as we refine our areas for continued progress.

It Takes A Lot Of Collaboration
To Get It Right.
It's A Matter Of Proactive &
Strategic Planning.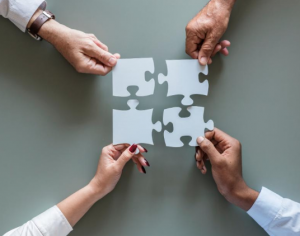 We Are Grateful To Our Partners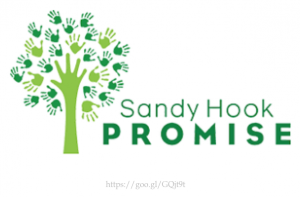 Community Awareness & Education
Like so many initiatives in our District, we are fortunate to have engaged members of our community who have been willing participants in collaboration with district leadership on important endeavors. Our two Action Committees on Mental Health & Suicide Prevention and Code of Conduct & Respect are comprised of district staff, students, parents, and community members. Our group was fortunate to have collaborated with a representative from the Sandy Hook Promise to learn more about steps that can be taken to protect children and create meaningful action.
Our action committees continue to drive positive change by enhancing the proactive measures that can be incorporated into our schools to help nurture a positive school climate and culture. We encourage community members to review the links above on the work of our action committees who have identified district progress and important next steps to continue to provide a safe and supportive community for ALL students, staff, and community members.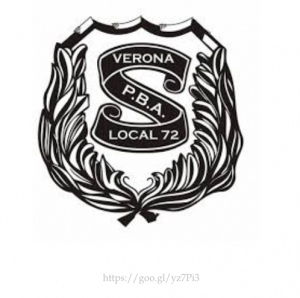 A special thank you to the Verona Conference of SCA's who sponsored the professional learning event by providing breakfast and to the Verona PBA Local 72for providing lunch to all participants and attendees. Our recent staff development day was an immense success that would not have been possible without all of our community support.

Verona Public Schools
A great place to learn…
A great place to work…
A great place to live.

TECHNOLOGY & SECURITY UPGRADES
Quality & Valuable Infrastructure
Redesigned Security Vestibules
Enhanced Access Controls with Keyless Entry
Security Cameras and Digital Recording System
Visitor Management Software System
New Visitor Management Procedures
Web Based Management System
New Building Exterior Doors
Enhanced Communication via Shoretel IP Phone System
Click here to read the digital newsletter.
Dr. Rui Dionisio is the Superintendent of the Verona Public Schools. Dr. Dionisio encourages community members to contact him with questions or feedback at 973-571-2029 or via email at rdionisio@veronaschools.org