Hitting All the Right Notes
by Howard Freund, Laning Avenue School Principal
Excellence and opportunity are two of the ideals that are consistent through all of the Verona Public School's offerings. Nowhere is this more evident than in the rehearsal spaces and music rooms of all six schools in Verona. Music is an integral part of the Verona experience from the first days of kindergarten to the very last sound heard at a VHS graduation ceremony. At a time when tight budgets and limited resources often threaten programs like music and art, the Verona Public Schools value a comprehensive music program and continue to focus attention on giving the students of Verona the very best music education possible. What follows is a brief overview of the offerings and some of the many highlights of this incredible program.
Elementary Schools-Brookdale, F.N. Brown, Forest, Laning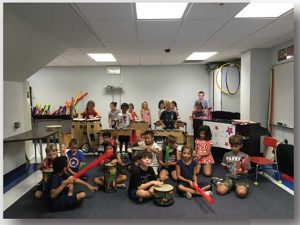 All students from kindergarten through fourth grade take part in a thorough exploration of singing, rhythm, movement, basic instrument techniques and musical concepts. All styles of music are considered worthwhile and it is common to hear everything from American and other countries' folk songs to popular music in the same class period. The mission of this program is not only to give students a deep understanding of the building blocks of music, but also to foster confidence in each student as a musician and encourage them to find their own musical voices. Students fully explore their own voices under the careful coaching of teachers who truly understand the mechanics of singing, especially those of young singers. Once students reach the third grade, they take part in a dedicated chorus period each week. This is where they focus their efforts on readying a wide range of repertoire for various performances throughout the year. Whenever possible, dress rehearsals and performances incorporate professional accompa­nists, which allows for an incredibly authentic experience for students as well as audience members.
Early on in the general music classes, students learn proper techniques for playing a variety of both pitched and rhythm instruments. Third graders learn basic notation and perform using recorders. This serves as a valuable preface to the instrumental music program which begins in fourth grade. During the first week of the school year, fourth grade students are visited by staff and high school students and given a demonstration of all of the instruments available to them. Students get to pick instruments that appeal to them and get started right away. The percentage of our fourth grade students that participate in instrumental music generally hovers around 90%! The fourth grade instrumentalists perform in the holiday concert, the spring concert and also a very special "all-district" fourth grade band concert at the end of the year. This band can have upwards of 140 students on stage at one time!
HB Whitehorne Middle School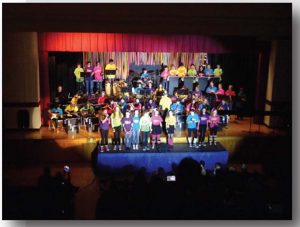 Students leave the Verona K-4 elementary schools with an incredible music founda­tion and enter HBW Middle School where many new and exciting music experiences await them. The philosophy in the 5-8 music classes is to teach music concepts and the building blocks of composition through playing instruments. Students alternate between playing keyboards and acoustic guitar in these classes and eventually use composition and recording software to produce their own music. Students also learn the basics of instrument design and with the assistance of the STEM teacher, they actually build their own instruments.
Students at HBW have the opportunity to rehearse and perform in one of two choirs. The HBW Voices is open to all students, grades 5-8. This group generally has over 120 students in it and features challenging, yet accessible music that spans all genres and time periods. The other choir at HBW is called Acoustics and is open to advanced vocal students, grades 6-8, through an audition process. This group performs more challenging music which requires more vocal independence and understanding/atten­tion to musical detail.
The instrumental music program at HBW offers three leveled concert bands and a jazz band. Students are placed in bands by proficiency allowing repertoire to be at the "just-right" level. In addition to full band rehearsals, all students attend a lesson period each week where they receive more individualized instruction. Often throughout the year students are placed into smaller ensembles to explore chamber music. All bands and choirs perform multiple times throughout the year for standing room only audiences and always conclude the school year with performances at a Music in the Parks festival/competition. The HBW bands and choirs consistently have received outstanding reviews for over 25 years with many individual and group top performance awards.
For the past few years, the music department at HBW has applied for and been awarded grants to go "above and beyond" the scope of the program. Thanks to the generosity of the Verona Foundation for Educational Excellence, the HBW music program has been able to commission a composition based on a poem by an HBW student, bring in professional jazz musicians to rehearse and perform with students, and hire a dance instructor to teach swing dancing to 730 middle school students. During the 2016-17 school year, the bands and choruses will be recording a complete album and will put students in charge of every aspect of the album's production. Students will work with specialists including a recording engineer, a graphic designer, a marketing artistic director, an intellectual property attorney, and more to produce …… The White(horne) Album.
Verona High School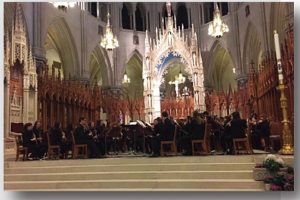 Verona High School has a long history of exemplary music programs. The bands (concert, jazz, & marching) have consistently received superior ratings at music festivals throughout many states. Graduates of Verona High School have gone on to the finest conservatories in the United States and can be heard in many professional capacities. Not only is the current faculty carrying on these great traditions, they are expanding the offerings and including more and more students every year. Concert choir currently has close to 100 students and exposes students to a very wide range of repertoire. New to the vocal program in the 2016-2017 school year is Chamber Choir. This is a select group of vocal students who delve deep into challenging mate­rial and expand their musical horizons by experiencing some of the great vocal works that were composed specifically for intimate ensembles. In addition to their full rehearsals, choir students now have small group lessons, which will allow them to focus on all areas of vocal musicianship. This program addition has been on the wish list for years and is finally a reality. Verona High School has a longstanding Jazz Choir that performs all varieties of jazz, broadway, pop, and virtually any music that calls for intricate harmo­nies and independent singing. Jazz choir performs alone and in conjunction with other groups and guest artists and even forms the basis of a traveling "Carolers" group that performs around the holidays each year.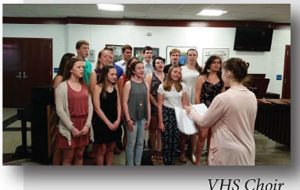 A new general music class was born this year called, "Striking a New Chord:' This class picks up where middle school general music left off. Students continue to learn about the fundamentals of music and apply them in critical listening of a diverse sampling of music and their own composi­tions. The latest in music technology is utilized to both access important works and compose/produce students' original pieces.
Music theory continues to be a popular and rigorous offering at VHS. From the introductory Music Theory 1 class to AP Music Theory, students uncover the science behind what makes music work. They study chords, voice leading, and rhythm in a manner which sheds light on how the masters composed and arranged their great pieces. Students also fine tune their "musical ears" through sight singing, ear training, and musical dictation. The syllabus and materials for these courses are identical to those that are taught in many colleges across the country.
In the instrumental music department, The Marching Maroon and White continues to dazzle crowds at football games and bring home impressive awards at festivals across NJ. Some of the recent accomplishments for the marching band include: State Championships, Best Music, Best Percussion, and the Cadet's Award of Excellence at State and National Championships.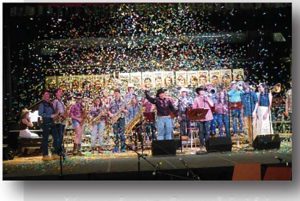 The concert band has a similar list of accolades and accomplishments. Among the many distinctions that that band has earned are the following: Performances at Carnegie Hall and Cathedral Basilica, Top Concert Band at NJ State Concert Band Gala 2011, and Perennial Gold Star Recipients at NJ Concert Band Festival. A recent thrill for staff, students, and parents was a major work that was commissioned and performed by the Verona Concert Band called "Organic Matter" for Concert Band and Organ.
Whereas many schools have jazz bands, VHS has "Jazz and Beyond:' This powerhouse group typically performs jazz of all styles in their first set, switch­es outfits and comes out playing incredible renditions of pop, rock, funk, soul, disco, and even country music. VHS Jazz and Beyond was proclaimed the best non-professional group to ever play at the Rock and Roll Hall of Fame in Cleveland, OH after a performance there a few years ago.
One can get a good idea of these groups by reading the above descriptions, but the proof is in the performance. There is nothing Uke a Verona concert! At each level, audience members watch and listen in amazement as children perform on the highest of levels. Come out to a concert you won't be disap­pointed, but make sure you arrive early enough because the auditoriums around town always fill up.
Superintendent of School Rui Dionisio said, "Music is incredibly personal to each and every one of us, whether we enjoy singing, playing an instrument, creating digital musical arrangements, or simply listening to our favorite artists. We can't go very long throughout the day without hearing and appreci­ating its diversity, from songs of ages past to those of the current day, which makes music amazingly rich. Our schools are able to provide such a gift to our students, which in turn helps sustain a greater sense of community for all".
Click here to read more articles in the Verona Public Schools Magazine 2016-2017 Edition.