For the Love of the Game
by Bob Merkler Director of Athletics and Special Programs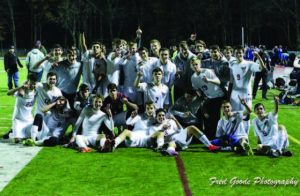 It has been a busy but exciting summer at Verona High School as construction crews work diligently to construct new athletic facilities for our VHS student athletes. Through the coordination and cooperation of numerous community members, school officials, engineers, and contractors, Verona Athletics began competing on state of the art facilities beginning this Fall. The Thomas J. Sellitto Athletic Field, located directly behind Verona High School, is now a turf field equipped with lights. The new improvements will allow Verona to host a variety of events on campus throughout the year. Our tennis courts, at one time a 4 court facility unable to host state tournament championships, has been resurfaced with an added 5th court. The new blue and green color scheme matches top tennis facilities in the state of New Jersey. Finally, our lower field will sustain some of the most dramatic changes of all facility updates. Both the baseball and softball team will be able to play simultaneously on a turf field that will produce true infield hops. Left field will maintain a full regulation multipurpose field while right field will double as an additional multipurpose field. Both locations will have the ability to host games and/or practices for all VHS athletics.
The new facilities are an amazing gesture of support from the Verona community in providing our athletic programs, band, and physical education classes with state of the art facilities. Our top notch athletic program now has a first rate facility to match. We look forward to seeing their hard work really shine through for years to come. All Fall athletic schedules are currently posted on our Verona High School Athletics website. We look forward to seeing you at our next athletic event to cheer us on!
Click here to read more articles in the Verona Public Schools Magazine 2016-2017 Edition.