Dedicated Educators Are Lifelong Learners
by Charles Miller, Director of Curriculum, Instruction, and Assessment
During the spring of 2015 and 2016, the Verona staff were given the opportunity to apply to the Google Teacher Academy (GTA). "We are seeking teacher partners who are willing to volunteer to explore and expand the use of Google Apps for Education to improve student learning," was a quote that was part of the letter communicated to the staff by our Superintendent of Schools, Mr. Rui Dionisio, and our Director of Curriculum, Instruction, and Assessment (CIA), Mr. Charlie Miller, describing the benefits of joining the GTA. Some of the benefits included the following: 1) participation at the annual Google Summit in Ramsey, NJ 2) attending monthly professional learning collaboration meetings held after school throughout the academic year, 3) access to a Google Chromebook for implementation, and 4) the opportunity to lead professional development during staff development days, faculty and department meetings, and grade level meetings. Specifically, utilizing Chromebooks as our wireless device provides faculty and students the opportunity to engage in collaboration and opportunities for learning that did not exist absent the technology.
The GTA team selected for the 2015-16 school year was comprised of six elementary teachers, nine middle school teachers, and eight high school teachers. For the 2016-17 school year, the GTA team that was selected included ten elementary teachers, seven teachers at HBW, and three teachers at the high school (see graph on the right).
The meetings are led by the Director of CIA, our STEM supervisor, Mr. Glen Stevenson, and our Manager of Technology, Mr. Eltion Ballaj. From the first meeting, the GTA team agreed on adopting the following mission statement, "The goal of the Academy will be to continue to focus on best teaching practices while infusing technology to further enrich learning." During each meeting, there is time for teachers to speak freely about their experiences using Google and its many applications within the classroom. Additionally, topics such as Google Classroom, Khan Academy, Matific, and Flubaroo have been presented from teachers to their colleagues and administrators.
Differentiated teacher workshops were reintroduced last year in an effort to demonstrate the experience, expertise, and talent within the Verona School District that would lead and motivate our staff to utilize ideas gleaned from the workshops the very next day with their students. During each planned professional development day, there was an opportunity for teachers to choose which work-shop they would like to attend. We were thrilled that many of our teachers from the GTA confident-ly shared ideas that they were using in their class-rooms. For example, Mr. Jonathan Thai taught other teachers how to use the application Screencastify to create their own math tutorials. Mr. Casey Harris taught teachers how to use Flubaroo with Google Forms.
Mrs. Marisa Albano led a workshop teaching Google Basics, and Mrs. Megan Pellegrino and Mrs. Karen Sabatino created a session on how to get started with Google Classroom. The response after each of these workshops was appreciative and supportive of the direction of our district.
For the 2016-17 school year, we are pleased to announce that our newly appointed Instructional Technology Managers, Mrs. Angela Salisbury, Mr. Andor Kish, and Mrs. Jennifer Kleinknecht, will lead our GTA teams by exploring and pushing the boundaries of Google and its applications that will enrich and deepen student learning and expand teachers' repertoires.
Ms. Jennifer Errico, "Infusing the technology of the Google Chromebooks will produce an innovative approach to enhance student learning. I am enthusiastic about discovering the many applications Google has to offer and infusing them into lessons to help my students grow as learners. It also gives me the opportunity to grow as an educator."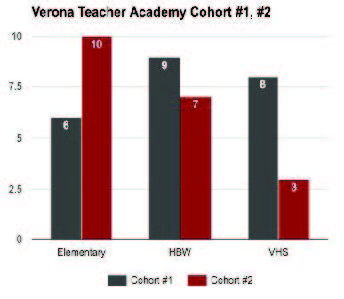 Mr. Brian Samples, "I use Chromebooks to enhance and enrich the learning experiences of my students. In today's world, where the use of technology is so crucial, I believe it's import-ant to begin using technology at an early age for everything from research to communication. Chromebooks would be useful across all subjects to reach all types of learners via an interactive platform."