Superintendent Corner Column
Why Your Vote on Full Day Kindergarten Is Important
"Play is often talked about as if it were a relief from serious learning.
But for children play is serious learning.
Play is really the work of childhood."
Mister Fred Rogers
On November 6, 2018, the Verona community will have an opportunity to cast an important vote that would increase funding to the Verona Public Schools to invest in full day kindergarten through a commitment to increased staffing at the elementary level. If approved by the community, full day kindergarten would begin in January 2019. In each s ubsequent year, full day kindergarten would become a full year program beginning in September and ending in June.
The Verona Board of Education has proposed full day kindergarten on the ballot twice in the past 12 years. We are proposing it again because the evolving demographics in our community suggest this would be beneficial to more students. Verona is one of the few school districts in New Jersey that does not offer full day kindergarten. Our district administration, elementary principals, and kindergarten teachers devoted much time last year to researching the topic, identifying the importance of kindergarten, and analyzing the budgetary impact to the District. Carrying out such work takes vision, time, thoughtfulness, and a commitment to such efforts. Our elementary principals conducted a public presentation at the May 22, 2018 Board of Education meeting which you may view at the link below.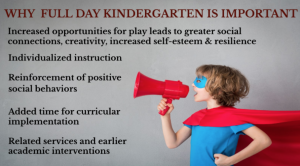 Our teachers, administrators, and staff cultivate an environment that creates excitement for learning. We are fortunate to be able to create rigorous, academic environments with a diverse and robust curricula. The achievement of our students depends on it. Our teachers and support staff carry out meaningful and exemplary work with our children each and every day. It is encouraging that our children experience strong programs and educators who are dedicated to our students.

Approval of this second question by the Verona community would result in an increase for our current kindergarten teachers from 77% to full time, and increase of nearly 25% of additional instructional time for our students and staff. More time equals more opportunities to support our children, especially in the early developmental years. There exist several factors to consider when determining the importance of implementing a full day kindergarten program such as the increased opportunities for play which leads to greater social connections, creativity, increased self-esteem, and resilience. Additionally, expanding the school day for children in kindergarten would support our teachers to have more time for individualized instruction, the reinforcement of positive social behaviors, and opportunities for academic intervention.
You may be wondering why our school district cannot simply pay for full day kindergarten out of the school budget. On the financial front, the Verona Public Schools operates a lean and fiscally responsible school budget with low per pupil spending. There are several factors that have created financial constraints making funding new programs of this scope impossible via the current school budget:
The reduction in State aid amounts to a cumulative loss of $5.6 million to the Verona Public Schools since 2011. This fact translates into less funding to develop programs and expand staffing in our schools.
This reduction in State aid equates to a loss of $705,000 per year on average.
The current State aid received in 2018 is still 23% less than in 2010.
The Verona Public Schools has never been fully funded based on the New Jersey funding formula.
Since 2011, the inception of the 2.0% cap on the property tax levy makes it prohibitive to increase the district's operating budget above the cap without approval from the taxpayer.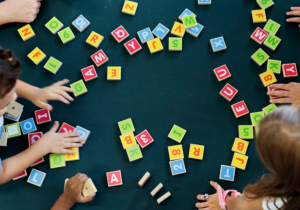 We are fortunate to have a caring community dedicated to continuing to focus on providing a high quality education for our students. This second question to expand full day kindergarten has been thoughtfully developed and would provide additional support and staffing for $3.50 per month ($42 per year) to the average assessed household. Any anticipated increase in costs above the 2% cap would be negligible since each 1% of increase equates to 42 cents per year to the average home.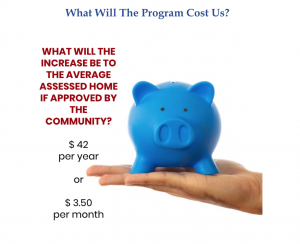 Unlike many other school districts exploring the expansion of full day kindergarten, there would be no impact to our facility space with no need to build additional classrooms (we expanded the number of classroom spaces in prior referendums). The proposed increase to the existing school budget would solely be an increase to staffing costs.
The amount of time and how we use such opportunities are factors that impact academic achievement and social development, allowing our students to maximize their individual potential. I have attached additional resources in this correspondence, including the Board of Education video and slide presentation by our elementary school principals. A Frequently Asked Questions (FAQ's) document provides additional insight into the most common questions on full day kindergarten. I encourage you to become informed by reviewing the information below and vote on November 6th.
All my best,
Dr. Rui Dionisio
Superintendent of Schools
Click here to read the digital newsletter.
Dr. Rui Dionisio is the Superintendent of the Verona Public Schools. Dr. Dionisio encourages community members to contact him with questions or feedback at 973-571-2029 or via email at rdionisio@veronaschools.org