Book Clubs: Building Reading Communities with High School Students
By Dr. Sumit Bangia, Supervisor of Humanities
"If I were a young person today, trying to gain a sense of myself in the world, I would do that again by reading, just as I did when I was young." Maya Angelou
One of the key goals at Verona High School is to help students develop a positive reading identity and cultivate classroom reading communities where students can engage in insightful and respectful dialogue about shared reading experiences. According to the National Council of Teachers of English, in a 2004 study, students with greater access to books tend to read, students who read more tend to improve as readers, and reading improvement tends to spill over into other areas of development. Teachers at VHS have incorporated book clubs in their classes to achieve this academic goal.
Book clubs are teacher guided and student led. Specifically, students engage in discussions with classmates who have read the same book. Book club expert Cindy O'Donnell Allen has found that book clubs "inspire students to become readers for life by providing them with in-school experiences that approximate those of readers outside of school" (37). Students engage in discussions that "tend to be free-flowing" and the "ideas and functions mingle so completely that no one can take sole credit for the final outcome" (O'Donnell, 13). A final assessment project is completed by students at the conclusion of the book club to help monitor student understanding of their chosen book. Assessments are guided by the themes, characters and/or cultural norms explored in the book read by students.
Book clubs were initially introduced with the freshmen students enrolled in English I during the 2016-2017 school year. Students selected reading material for their book clubs from a list of vetted books that explore a variety of literary themes and topics, including fulfilling your destiny, expanding your global/social perspectives, the teenage experience, challenging societal norms, team/group dynamics, STEM, and stories in history. The school librarian Ms. Maria Mayo conducted book talks to help students select books that best matched their interests.
The book club initiative was expanded to students in English II classes this current school year. New themes, such as dystopia, immigration, and other current issues that impact adolescents in America, were added to reflect the sophomore curriculum and the students' increased maturity.
Students lead many of the book talks with Ms. Mayo providing support. Ms. Mayo stated, "It has been truly gratifying to see the level of student ownership of the book clubs increase over the course of the past school year."
In addition to expanding book clubs to sophomore English students, Spanish classes are now utilizing the book club frame-work with only one book choice. All students in Spanish III classes are reading the novel Esperanza Rising by Pam Muñoz Ryan in Spanish. The primary focus of book club in the Spanish classes is to build students' proficiency by engaging in fluid conversations in the target language. Ms. Kenya Velarde and Ms. Jessica Calvo, VHS Spanish teachers, have shared that students are now reporting thinking in Spanish and have been exploring various perspectives on social and cultural issues.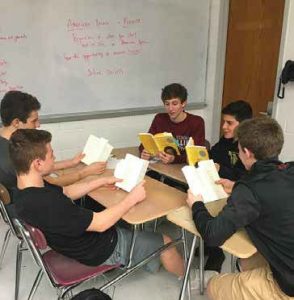 The impact of book clubs has been overwhelmingly positive. Students shared that they loved talking about the books because the topics were interesting and relatable. Current ninth-grade student Mariam Girgis said, "I like that the book clubs are led by the students and that there are a lot of choices, so it really is for everyone. I also like that it doesn't feel like a homework assignment. It feels like something that you do for fun." Dakota Tramel, another ninth-grade student shared, "The book club gets you to talk to other people that you might not usually talk to. It is also great because you get to talk about a book that you enjoy with other people who feel the same way." Teachers have also enjoyed the unit. Ms. Taylor DeMaio, a ninth-grade English teacher at VHS, shared that the book clubs provided students with full autonomy over how their sessions were run. By circulating and joining in student discussions, Ms. DeMaio sensed their genuine interest in the novels and the conversations. Students took ownership from day one, resulting in nearly 100% engagement and participation from start to finish within the sessions themselves and the unit as a whole. Mrs. Alice Kobylarz, also a ninth-grade English teacher, reported that she enjoyed "watching the students prepare and present their final assessment projects. Last year, it was gratifying to see the students work collaboratively to turn their ideas and discussion points into a creative product. With so many different books and different groups, I had to fully turn the reins over to the students and they absolutely took charge.
Through their unique presentations, they taught one another and me about the many great books available through the book clubs, inspiring us all to read."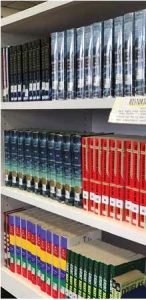 The book club initiative also helped to increase book circulation in the learning commons. Ms. Mayo shared that the book club experience allowed students to build their reader identities; students now know what they like and what they don't like. Ms. Mayo stated that most importantly, "Book clubs offered an opportunity for me to build relationships with students. I am able to match students to books based on their experience with books they read in their book club." Book club choices and students' reactions to the text will also inform our collection development for the next school year. As we develop a culture of reading at VHS, we hope to offer book club choices to juniors next year, providing these students an opportunity to discuss current issues in America through a literary lens.
As educators, we understand the demands that our students face on a daily basis. Due to full schedules, students often feel that they do not have the time or direction to read for pleasure. By providing guidance and carving out time in the classroom, book clubs have allowed our high school students to rediscover a love of books and engage in meaningful, organic conversations about text—the building blocks to creating lifelong readers.
Click here to read the digital newsletter.