A Message from Our Superintendent – Celebrating Our Teachers
Dear Parents, Guardians, Staff, and Community Members: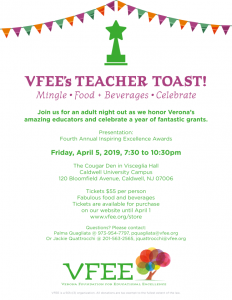 The Verona Foundation for Educational Excellence (VFEE) Annual Soiree will be celebrating our incredible teacher nominees on Friday April 5, 2019 from 7:30 to 10:30 pm. We invite staff, parents, and community members to join us for this recognition and fourth annual fundraising event at the The Cougar Den in Visceglia Hall on the Caldwell University Campus 120 Bloomfield Avenue in Caldwell. Tickets are $55 per person and will offer food and refreshments. Tickets are available for purchase on the VFEE website www.vfee.org/store/
The Verona Foundation for Educational Excellence (VFEE) is dedicated to enhancing excellence in education through the development and distribution of private resources for the benefit of Verona schools and students. The Foundation's mission is to maintain an extra margin of excellence by employing private resources to supplement traditional school funding. Please take a moment to review recent grant recipients in our district by clicking here.
The amazing grant awards would not be possible without the generous support of our donor base in our community. We want to thank those who have provided contributions that fund quality innovative educational grants to Verona Public Schools in an effort to enrich the educational experience of the students of Verona. Your support is greatly appreciated by the VFEE trustees as well as district teachers, administrators, and students. Please contact Palma Quagliata @ 973-954-7797, pquagliata@vfee.org or Jackie Quattrocchi @ 201-563-2565 or jquattrocchi@vfee.org should you have any additional questions.
VFEE is a 501 c (3) charitable organization dedicated to enhancing excellence in education through the development and distribution of private resources for the benefit of the Verona Public Schools. A special thank you to VFEE for their incredible dedication to our students and staff. Please help us continue to support amazing grant opportunities that benefit our students by donating today at www.vfee.org
Sincerely,
Dr. Rui Dionisio
Superintendent of Schools