A Closer Look at Verona's Technology Improvements
by Mr. Eltion Ballaj, Manager of Technology
To start off the 2017 – 2018 school year, the district completed the installation of an up to date network infrastructure and upgraded its Wireless Access System to accommodate all district devices as well as students' personal devices through a bring your own device policy (BYOD). With many hours of work from both the Verona IT department and its partner companies such as Dell, Google, and Alcatel, students and staff can now connect to the internet from almost any location of our school buildings with no connectivity issues.
With the implementation of the Google G-Suite for Education in 2015, the district deployed over 1,000 Chromebook devices throughout its schools, giving our students a flexible learning environment. G-Suite for Education made it possible for students and teachers to share information, assignments, and homework from anywhere on any device that has internet connectivity. Currently there are over 2,000 Google Classrooms created on our domain with over 400 of them active per day.
As technology advances, so does the need for enhanced digital security. The district improved school security by implementing solutions ranging from closed caption TV, building access control, and visitor management systems with intercom capability.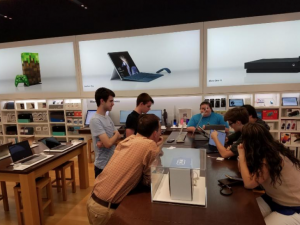 With more and more students connected to the internet, the need for enhanced cyber-security was necessary. The Verona IT department implemented different technologies to keep students and staff safe from cyber attacks. The IT Department configured its network to allow incoming connections to only approved internet traffic. With a local firewall system in place, all traffic is scanned for malware and any potential cyber threats. The implementation of a web filtering system monitors and blocks inappropriate and potentially malicious websites. Student and staff data are saved on the cloud on the secured Google's G-Suite for Education servers.
Even though data are on Google's secured servers, the district implemented a cloud filtering solutions specific to G-Suite for Education to monitor, scan and protect its users from phishing and cyber-attacks.
Although it is not possible to block all cyber-attacks, the Verona IT department is doing its best to further expand the technology in our district and maintain a safe learning environment for our students.
Click here to read the digital newsletter.