2016 Princeton University Distinguished Secondary Teaching Award
The following was written and published on the Princeton University website by the Princeton University Teacher Prep program in June 2016.
 Princeton University will honor four outstanding New Jersey secondary school teachers at its 2016 Commencement on Tuesday, May 31.
This year's honorees are Ronald Duncan Jr. of Saint Anthony High School in Jersey City, Barbara Fasano of High Point Regional High School in Sussex, Matthew Morone of Pascack Valley High School in Hillsdale, and Richard Wertz of Verona High School in Verona.
The teachers were selected for the award based on nominations from public and private schools around the State. The teachers will receive $5,000, as well as $3,000 for their school libraries.
"Today, as our social and economic challenges grow more complex and difficult and we hold our teachers more accountable for the answers, it is easy to forget that teaching remains as much of an art as a science," said Christopher Campisano, director of Princeton's Program in Teacher Preparation, which administers the award program. "The four teachers we honor with this award demonstrate the art of teaching is still very much alive in our schools. Equally important is the passion, authenticity, and love they bring into their respective classrooms applying their incredible skill and talent to fashion and mold uniquely beautiful portraits and sculptures reflected in the lives of their students."
In the Faculty Room of Nassau Hall, Director of the Program in Teacher Preparation Christopher Campisano (left) and Princeton President Christopher L. Eisgruber (third from right) meet with four outstanding New Jersey secondary school teachers on Commencement Day. They are (from left) Richard Wertz, Matthew Morone, Barbara Fasano and Ronald Duncan Jr. (Photo by Denise Applewhite, Office of Communications).
The staff of the Program in Teacher Preparation selected 10 finalists, who were visited at their schools by Rosanne Zeppieri, a member of the program staff. Award winners were selected by a committee that was chaired by Dean of the College Jill Dolan. The panel also included Campisano, University faculty members Joshua Katz and Stanley Katz; Steve Cochrane, superintendent of the Princeton Public Schools; and Laura Morana, executive county superintendent of schools for Mercer and Middlesex counties.
"I applaud these teachers for the courage they show in holding fast to the promise of each and every student entrusted to their care," Campisano said.
Princeton has honored secondary school teachers since 1959. The University received an anonymous gift from an alumnus to establish the program.
Thirty-six years ago, Richard Wertz took a chance on a computer science class as an elective during his ninth-grade year. Twenty-eight years ago, he graduated from Princeton with a bachelor's degree in electrical engineering and computer science. Twelve years ago, he changed careers, trading a job as a managing director at Goldman Sachs for one as a high school teacher.
He has applied all of those experiences to teaching calculus and computer science at Verona High School, where he established an AP computer science course, has overseen a jump in computer science course enrollment from 15 to 110 and has helped students double the amount of college credit earned in AP Calculus classes.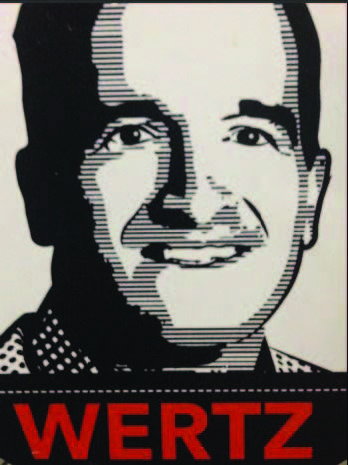 "…inspire a love of computer science in my students"
"It is my hope that, through my work as a high school teacher, I can continue to inspire a love of computer science in my students, as a way of embracing mathematics and as a way of thinking and solving problems, but also as a gateway to enriching future study of the 'pure' sciences, applied science and engineering, and mathematics," Wertz wrote in a personal statement.